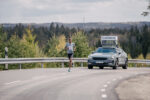 In essence, putting on a virtual race is quite simple. You provide runners with a way to register and an email address to send the result to once the race is over. You then send out the medal and you're done. But how much fun is for the runners? And in all honesty, how much fun is that for the race organization itself?
When Göteborgsvarvet was cancelled and it was decided that a virtual 21 km race would be staged it's it's place, we decided very early on in the process that we wanted to give the runners the best possible race day experience, as we always do! Setting the bar for what a virtual race experience can be, became our overriding goal.
A couple of days before the race emails were sent to all registered runners. This included information on how to approach the race, instructions on how to connect tracking accounts, running motivation and so on.
In that email we also added a link to the runner's own personal print@home bib. About 75% of all runners clicked the link to the bib but we can't say how many actually printed it out.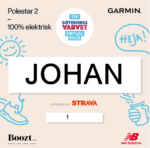 In the pre race mail we also encouraged our runners to share their photos and stories before, during and after their races using the #göteborgsvarvet hashtag. And they certainly did! It was great fun to see updates roll in during race weekend.
We were lucky enough to partner with Strava for this this race which meant that the runner had to upload and edit the activity on Strava before we got the runner's finish time. Our system automatically fetched the leaderboard from Strava every five minutes. When a runner got a result, the next phase in the digital experience began.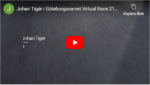 In collaboration with the electric performance car brand Polestar – one of our virtual race's main partners – all finishers received a personalized film. The film celebrated the runner for not giving up when things don't turn out the way we expect and included dynamic data of the individual runner's performance during the race. The 5 km split time was presented as text and the finisher time was displayed on the race clock on the roof of a Polestar 2. To spark the viewer's interest the name and number was also included in the beginning of the film. The voiceover in the film was narrated by Jonas Karlsson, a well known Swedish sports commentator, and many would have recognized his voice.
The process of creating this personalized film started as soon as we received a new result from Strava, taking 2-3 minutes to complete. Once we had the link to the (unlisted) film on YouTube, we built a new email for the runner congratulating him / her on completing the race, presenting them with the film.
We also included links to a digital certificate and a newly developed functionality for creating your own finisher photo, with an overlay specifying: your name and your finishing time, and of course giving our partners some additional exposure as well!
We had planned the cancelled Göteborgsvarvet for Saturday May 16th 2020. Most of our 3400 virtual finishers ran their race on the 16th itself. Looking at the GPS tracking it's easy to see that Margretebergsgatan was the most popular place to start, as it's also the location for the start of our normal race. Many decided to run actual race course with their bibs, making the virtual race as close to normal as possible. For me, it was really emotional to see hundreds of runners competing in their bibs, printed from a system I built and developed; a really proud moment.
We received reports from all across Sweden of small gatherings where some enthusiasts organized hydration stations with spouses and friends / families cheering them on: very well organised mini races in their own right you might say. From the Swedish town of Kivik, national radio covered an initiative with a couple of runners. Our race director made appearances in local and national radio and TV and the local newspaper, Göteborgsposten, did a live web broadcast from the virtual race. The data for the infographics in the broadcast was delivered by Göteborgsvarvet.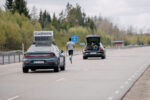 During the live broadcast that lasted 1 hour and 45 minutes the sports commentator Jonas Karlsson and Swedish elite runner Maria Larsson spoke about Göteborgsvarvet and our virtual race but they followed one runner's race specifically; that of Suldan Hassan. This young runner born in 1998, competing for Ullevi FK and the reigning Swedish champion over 5000 meters, ran his first competitive half marathon on a Volvo test track about 70 km outside Gothenburg.
Making its debut as the lead pace car, the fully electric Polestar 2. Having a Polestar 2 as a leader car makes perfect sense, given elite runners, as all runners, don't want to breath exhaust fumes when racing. Göteborgsvarvet's sustainability efforts matches perfectly with Polestar and we're proud to have had them as a main partner for the race.
Suldan's finishing result was 1:10:30 which he was delighted with. We were very happy with the way the broadcast turned out, it tied things together and highlighted one of the core principles with the virtual racing.
Because in my mind, being an avid runner and a participant in maybe 15 virtual races as well as part of the organizing crew for two virtual races, the key is to make the participant feel included in something bigger, to not feel alone even though he/she might be exactly that. Otherwise, you might get the runner to try it out once, but the next time he/she will do their regular Saturday long run instead, without the thrill of actually racing.
Everything we as a race organization provided in this race was digital. Bibs, finisher photos, certificates – all digital. Personalized film – digital (and cool technology). We used lots of social media both for sharing information and for helping the runners contacting us – again all digital. But I actually don't think that's something the runner cares about. They loved our virtual race and had an awesome experience. But for me, as CTO of the race organization, it's actually important to explain the details.
We did set the bar!
We created a world class race experience. Digital!
Translation of the voice over in the personalized film
Sometimes things don't turn out the way you expected.
When months of preparation turns into disappointment, the easiest way out is to just give up. Stop halfway through and take the easy road home.
Maybe that's when you need to tell yourself that everything is possible.
Because running isn't all about strong muscles and an excellent form, it is also about your motivation and will power.
Even if you felt like you were struggling all alone, you were not.
You were one of thousands that ran for the same cause.
So, thank you for your efforts, and for running your own race.
Hope to see you next year.