Ever since I started working in the running business I've been trying to learn more. Even though my main area is IT and technology I love learning about things like the security aspects of a start area, how to apply for the needed permits or the art of race day communication.
I must say that I learned a lot from listening to the Early Call Time podcast with Eli, Tony and their guests and I was truly honored when I was asked to be a guest on the show. The podcast is about The running industry and the people running the industry, a great summary about what you can expect when listening really. As you can imagine this industry isn't that big in total and I don't have that many road racing IT professionals to talk to in Sweden. Through the organization Running USA I've connected with lot's of great people in the industry from all over the planet.
The episode of the Early Call Time pod featuring me was recorded a sunny Friday in July and is now published.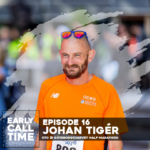 And when you're done listening to the episode featuring me there are quite a few more that are well worth while listening to.
All episodes of the Early Call Time podcast can be found here