The current pandemic is devastating for the event industry and in particular for mass participation sporting events, such as road races, triathlons and bike races. In Sweden the limit for such event are, at the moment, 50 persons including staff, participants and spectators. To clarify, this limit is for the entire arena or course at any given time. Hence, we cannot start 40 people, wait 15 minutes and then start 40 more since that would make 80 on the arena. This makes it almost impossible to do anything and we who work in this industry can do nothing but wait for the government to give us new and better laws and guidelines.
And since I am an avid – although not fast – marathon runner this is a problem for me in my spare time too. This year I was registered for Berlin Marathon and Chicago Marathon and I had also planned to run a couple of Swedish marathons and half marathons. Now, I attack anything that moves to get some real racing mixed up with all the virtual races I do.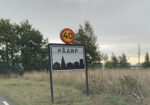 So, yesterday I got up at 6 am (on a Sunday) and drove 2.5 hours south to the little Swedish village Påarp, just outside Helsingborg where a small marathon was staged. Start and finish was just outside one of the organizer's house and we ran 8 laps on a 5.3 km (3.3 mi) course. In total 23 persons ran and I won. We had a great time and afterwards we got drinks, hot dogs and home made cake. During the race all runners cared for themselves, there were no hydration stations or energy stations so you had to bring what you wanted and needed. For me, this is good enough. I enjoy running the marathon distance together with other crazy marathon runners, one of my fellow runners completed his 950th (yes 950) marathon. But it's no London Marathon or Göteborgsvarvet. The spectators weren't 3 deep all along the course as those races have. We didn't have the fast Kenyans or a sir Mo Farah. Good for me, since I won, but for most people running this distance those things are a must have.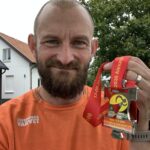 So, how do you actually win a marathon? Simple, you choose to run a small one where you are fastest.