Timing for endurance events is expensive, especially for small events with few participants. Jogg.se, Sweden's own Strava, wants to simplify life for runners as well as race organizers and that's why I was asked to look at how to build a simple and cheap, yet reliable, timing system primarily intended for, but not limited to, small running events. This was a problem right up the alley for Tigertech.
One of my first decisions was that even though the architecture is strong enough to use RFID chips and decoders as a source, everything must be completely web based. Setting up the race, starting the race and later on registering when runners pass checkpoints – or the finish line – must be possible to do from your mobile device. And after the race, editing a runner's result should be no harder than posting a video of your dog to Instagram. And it goes without saying that results are available online live without refreshing your browser window every minute to see if your friend finished the race yet.
Since a couple of years Jogg.se also have their own registration system, MittLopp, and this new service – called MittLopp Tidtagning (eng: Timing) – is an extension to the registration system which makes it totally seamless if you are using their registration, but it could of course also be used stand alone.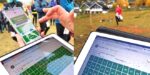 Last weekend, on Sept 26th 2020, the first real race took the system for a test drive. It was Åre Trail that used it for their race Forza Mullfjället, an 18 km trail race with 3 waves and in total 54 finishers. A representative for the organization says (translated) "The timing was awesome… a reliable, simple and flexible system".
If you are Swedish speaking you can read more about this on Jogg.se where you also can find contact information if you are interested in using this system. At the moment pricing starts at SEK 8 per participant (about €0.8 or $0.9). 
As every other software system ever built this isn't finished, and it will never be. So stay tuned for more news.